Rare Smith & Wesson .45 ACP Transitional Models
The S&W Model 645 was Big Blue's first .45 ACP Semi-Automatic. Produced from 1985 to 1988, it was replaced quite quickly by the Model 4506.
Here's my Model 645 and Model 4506-1.
Anyways, before the Model 645 was fully replaced. Smith & Wesson used up the last of the 645 parts and made "transitional models".
Legit transitional guns were classified as either pilot or interim models.
Pilot models were "Pilot Guns are COMPLETE first production runs of the New 3rd Generation Auto's. The difference is they are stamped old model # and box is marked "Special". - New Frame's & Trigger Guard - New Grips - New 3rd Generation Modifications - New Three Dot Sight System - Old Markings (Less than 300 ever released to commercial sale.)"
Interim models were "Pre-Pilot Test Production Guns were HAND BUILT with New 3rd Generation Modifications. Guns were built on old frame but have new Novac Beval package and new Three Dot Sight system. Guns are stamped with old Model # and box is marked "Special". (Less than 150 guns have ever been released to commercial sale.)"
Famed gun writer, Frank James of Shotgun news and Shooting Times had one.
Serial Number is TBU2698 dates this one at 1988 and the magazine is also from a Model 645 with a rubber bumper installed on the bottom of the metal floor plate.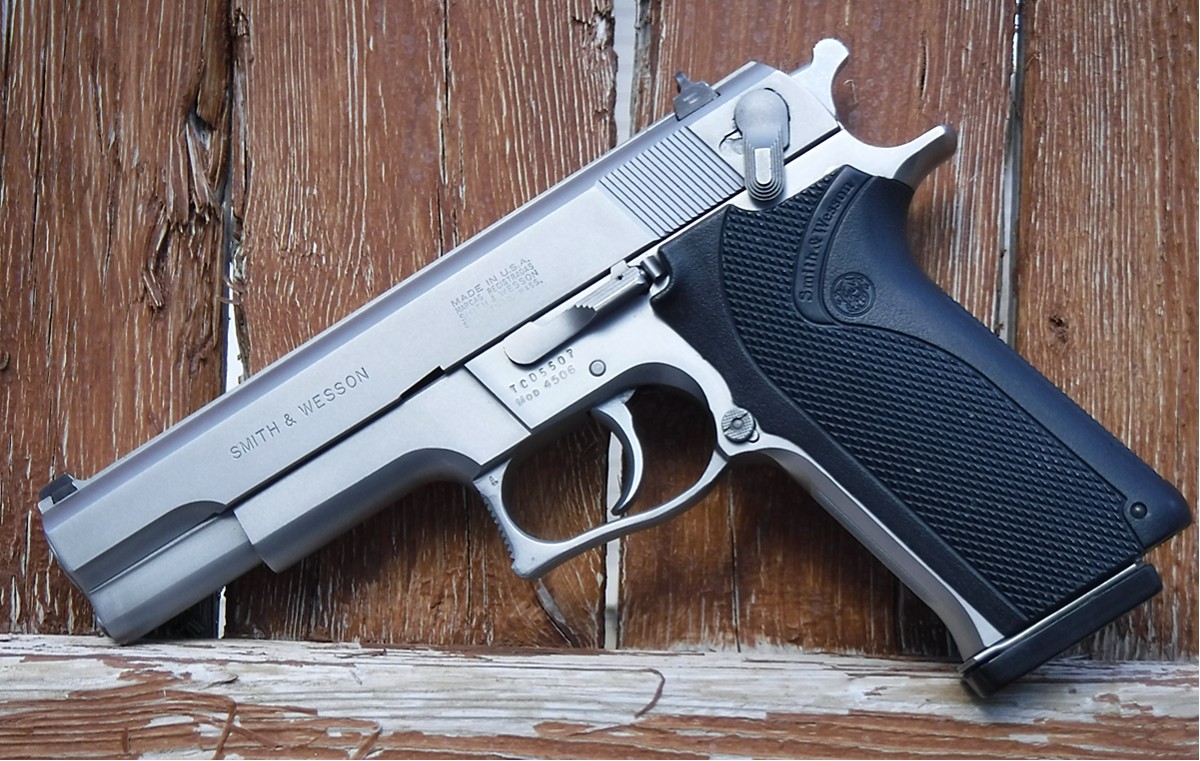 Here's another one, this one is marked as a Model 4506 and the serial number is TCD5507. This places it in 1988 too. As you can see, the rear sight and the magazine are from a Model 645.
Both slides on these guns are also from the Model 645. But the front sight has been machined to take the new one from the dovetailed sight that NOVAK designed for S&W.
Here's another rare gem, a Model 6450. One of the "Pilot" guns.
In the end, I'd sure like to have these guns in my collection since I'm a .45 ACP S&W fan.